Page 19 - tmt-december-2020
P. 19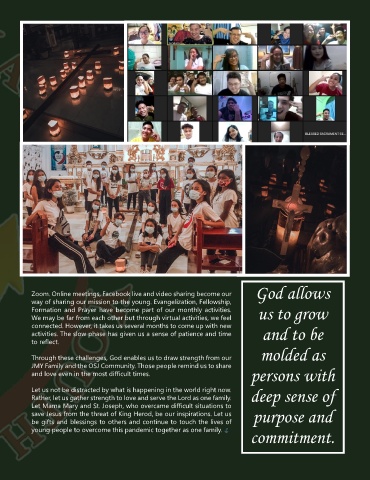 God allows
           Zoom. Online meetings, Facebook live and video sharing become our
           way of sharing our mission to the young. Evangelization, Fellowship,
           Formation and Prayer have become part of our monthly activities.           us to grow
           We may be far from each other but through virtual activities, we feel
           connected. However, it takes us several months to come up with new
           activities. The slow phase has given us a sense of patience and time         and to be
           to reflect.
                                                                                       molded as
           Through these challenges, God enables us to draw strength from our
           JMY Family and the OSJ Community. Those people remind us to share
           and love even in the most difficult times.                               persons with

           Let us not be distracted by what is happening in the world right now.    deep sense of
           Rather, let us gather strength to love and serve the Lord as one family.
           Let Mama Mary and St. Joseph, who overcame difficult situations to
           save Jesus from the threat of King Herod, be our inspirations. Let us     purpose and
           be gifts and blessings to others and continue to touch the lives of
                                                                                    commitment.
           young people to overcome this pandemic together as one family.