Page 17 - tmt-december-2020
P. 17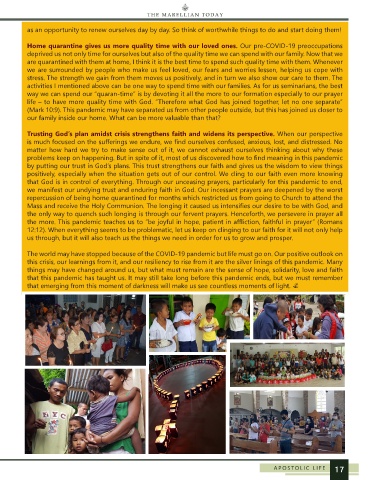 as an opportunity to renew ourselves day by day. So think of worthwhile things to do and start doing them!

          Home quarantine gives us more quality time with our loved ones. Our pre-COVID-19 preoccupations
          deprived us not only time for ourselves but also of the quality time we can spend with our family. Now that we
          are quarantined with them at home, I think it is the best time to spend such quality time with them. Whenever
          we are surrounded by people who make us feel loved, our fears and worries lessen, helping us cope with
          stress. The strength we gain from them moves us positively, and in turn we also show our care to them. The
          activities I mentioned above can be one way to spend time with our families. As for us seminarians, the best
          way we can spend our "quaran-time" is by devoting it all the more to our formation especially to our prayer
          life – to have more quality time with God. "Therefore what God has joined together, let no one separate"
          (Mark 10:9). This pandemic may have separated us from other people outside, but this has joined us closer to
          our family inside our home. What can be more valuable than that?

          Trusting God's plan amidst crisis strengthens faith and widens its perspective. When our perspective
          is much focused on the sufferings we endure, we find ourselves confused, anxious, lost, and distressed. No
          matter how hard we try to make sense out of it, we cannot exhaust ourselves thinking about why these
          problems keep on happening. But in spite of it, most of us discovered how to find meaning in this pandemic
          by putting our trust in God's plans. This trust strengthens our faith and gives us the wisdom to view things
          positively, especially when the situation gets out of our control. We cling to our faith even more knowing
          that God is in control of everything. Through our unceasing prayers, particularly for this pandemic to end,
          we manifest our undying trust and enduring faith in God. Our incessant prayers are deepened by the worst
          repercussion of being home quarantined for months which restricted us from going to Church to attend the
          Mass and receive the Holy Communion. The longing it caused us intensifies our desire to be with God, and
          the only way to quench such longing is through our fervent prayers. Henceforth, we persevere in prayer all
          the more. This pandemic teaches us to "be joyful in hope, patient in affliction, faithful in prayer" (Romans
          12:12). When everything seems to be problematic, let us keep on clinging to our faith for it will not only help
          us through, but it will also teach us the things we need in order for us to grow and prosper.

          The world may have stopped because of the COVID-19 pandemic but life must go on. Our positive outlook on
          this crisis, our learnings from it, and our resiliency to rise from it are the silver linings of this pandemic. Many
          things may have changed around us, but what must remain are the sense of hope, solidarity, love and faith
          that this pandemic has taught us. It may still take long before this pandemic ends, but we must remember
          that emerging from this moment of darkness will make us see countless moments of light.