Apostle of the Youth, Father of the Poor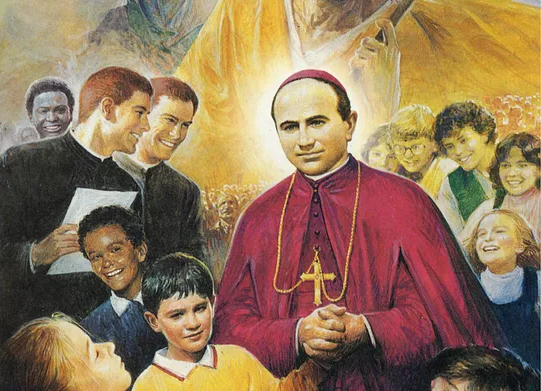 On June 12th, 1978, Pope Paul VI honored Joseph Marello with the title of "Venerable". This was the first major step in the process leading toward canonization and the recognition of Joseph Marello as a saint of the Church. By calling Joseph Marello "Venerable", the Church had confirmed in one word what was known by all who knew him – namely, that he was a very holy man and that his work, his ministry, must continue for the good of the Church, for the good of souls.

The next step in the process leading to canonization is crucial: the Church must acknowledge that a miracle had taken place through Joseph Marello's direct intercession. After years of careful study, this acknowledgment came on April 2, 1993. The healing miracle actually occurred in 1944 when a young Oblate seminarian, Aldo Falconetti, was cured of tubercular meningitis. While he lay in his bed literally dying from his illness, the attending physician advised that the young man be given the Last Rites of the Church; he was not expected to live through the night. Aldo's Brother-Oblates had been asking Joseph Marello to intercede for their sick brother and Aldo was given a holy card and relic of the Founder. The next morning Aldo awoke and felt perfectly fine. After a thorough examination, he was pronounced completely cured and the examining doctors admitted they had no explanation as to how this might have occurred.

The Church has acknowledged Joseph Marello's role in this miracle and as a result Pope John Paul II declared on September 26, 1993, that the Founder of the Oblates of Saint Joseph would be called "Blessed Joseph Marello".

Then the most wonderful news of all! On Sunday, November 25, 2001, the Solemnity of Christ the King, at 9:30 a.m., the Pope celebrated Mass in the Vatican Basilica during which he canonized Giuseppe Marello. Saint Joseph Marello is now presented to the entire Church as a model of sanctity and an intercessor in Heaven. He was given the title "Apostle of the Youth, Father of the Poor".