Named after the founder of Congregation of the Oblates of St. Joseph, the Marello Retreat House stands immaculately white like a loving and forgiving mother with outstretched arms ready to embrace back a child longing for grace, solace and reconciliation.

This eigthy-four bed capacity edifice was built by the late Fr. Guido Coletti OSJ. It was inaugurated in 1994 and has since accommodated thousands of weary souls who wanted to retreat from the busy grind of worldly things and sougth to refresh and strengthen themselves in the love and mercy of the Lord.

Anyone who enters this abode is at once greeted with a feeling of awe and serenity right at its spacious lobby. Behind the stairway that leads to the first floor is a simple yet divinely inspired chapel. The statue of the Risen Christ almost surprises anyone who enters it. Its towering height seems to impress on everyone that indeed there's always a chance to rise from one's sinfulness and rejoice in the glory of God up in the heavens. The walk along corridors leading to the bedrooms is like a journey with the saints. Each bedroom is named after a saint. This gives every occupant a feeling of security and a quest to know more about the saint after whom each bedroom is named. All other corridors and bedrooms at the ground floor are named after deceased members of the OSJ Congregation. It's like walking along heavenly path accompanied by holy religious men.

At the back of the chapel is a unique fourteen station of the cross. Each station is within a small roofless room giving everyone who wants to accompany the Lord in His most difficult moments a time to really think of and feel the pain that Jesus suffered, and thus participate in His agony and death.

The conference room at the far end of the east wing is cool and cozy very conducive to retreats and seminars. The refectory on the other hand looks very homely and provides sumptuous meals.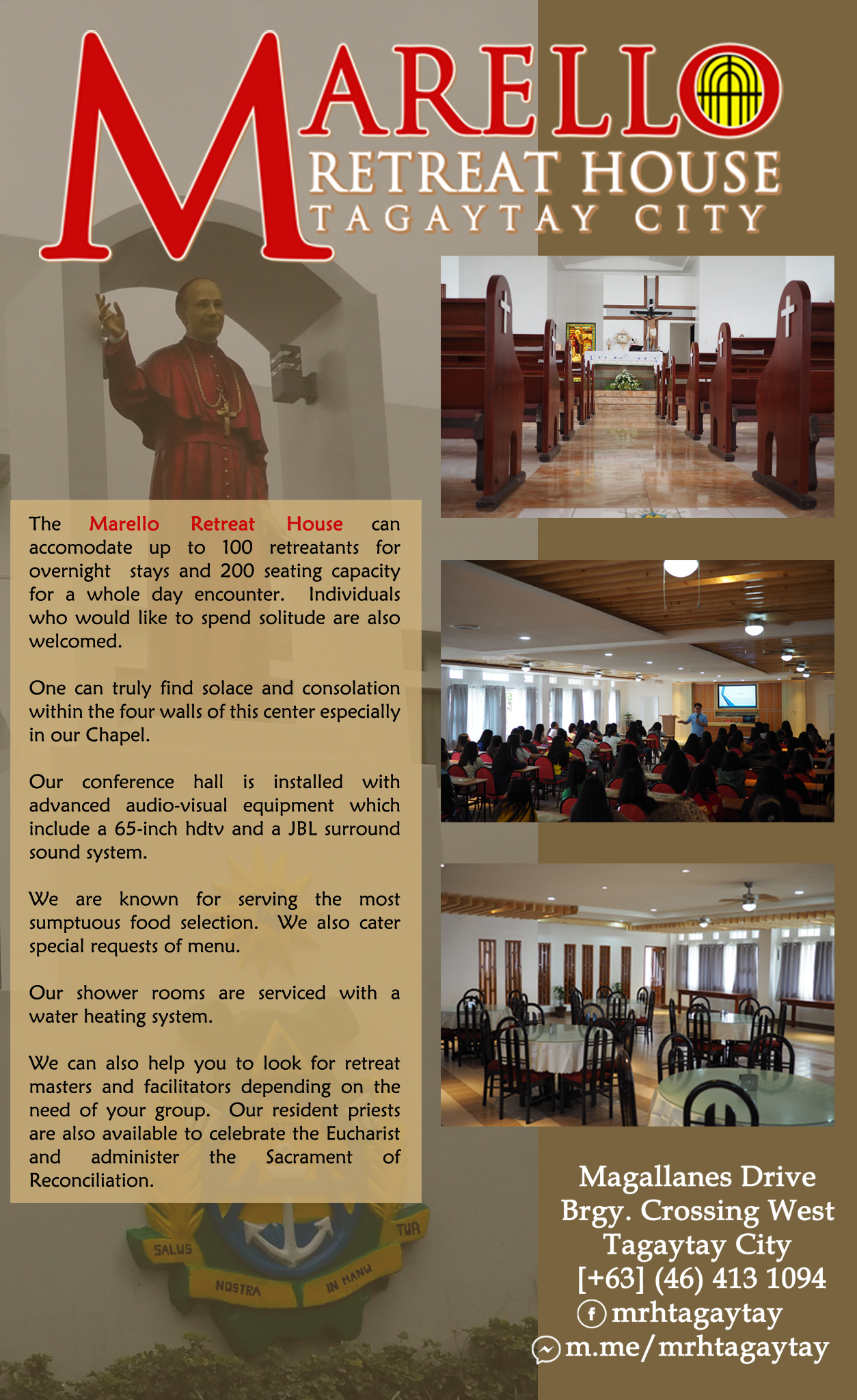 Click poster to enlarge..

Magallanes Drive
Brgy. Crossing West
Tagaytay City, Cavite
The Oblates of St. Joseph acquired a 3.7 hectare-property from the Medical Mission Sisters. Here, the existing building was decided to be used as a formation house for seminarians studying philosophy.

In 1984, another structure was built. It was named "OSJ House of Prayer". The purpose of this was to have a place for retreats, recollections and other spiritual gatherings. In fact, after it was opened, during the height of the Cursillo Movement in th 1980's, this was used regularly by this group.

Nearby schools and colleges also chose this as the venue for their retreats.

It has a spacious hall and dining area. At the second floor, there are two dormitories that each can accomodate a maximum of 50 persons.

It is currently managed by the OSJ College Seminary.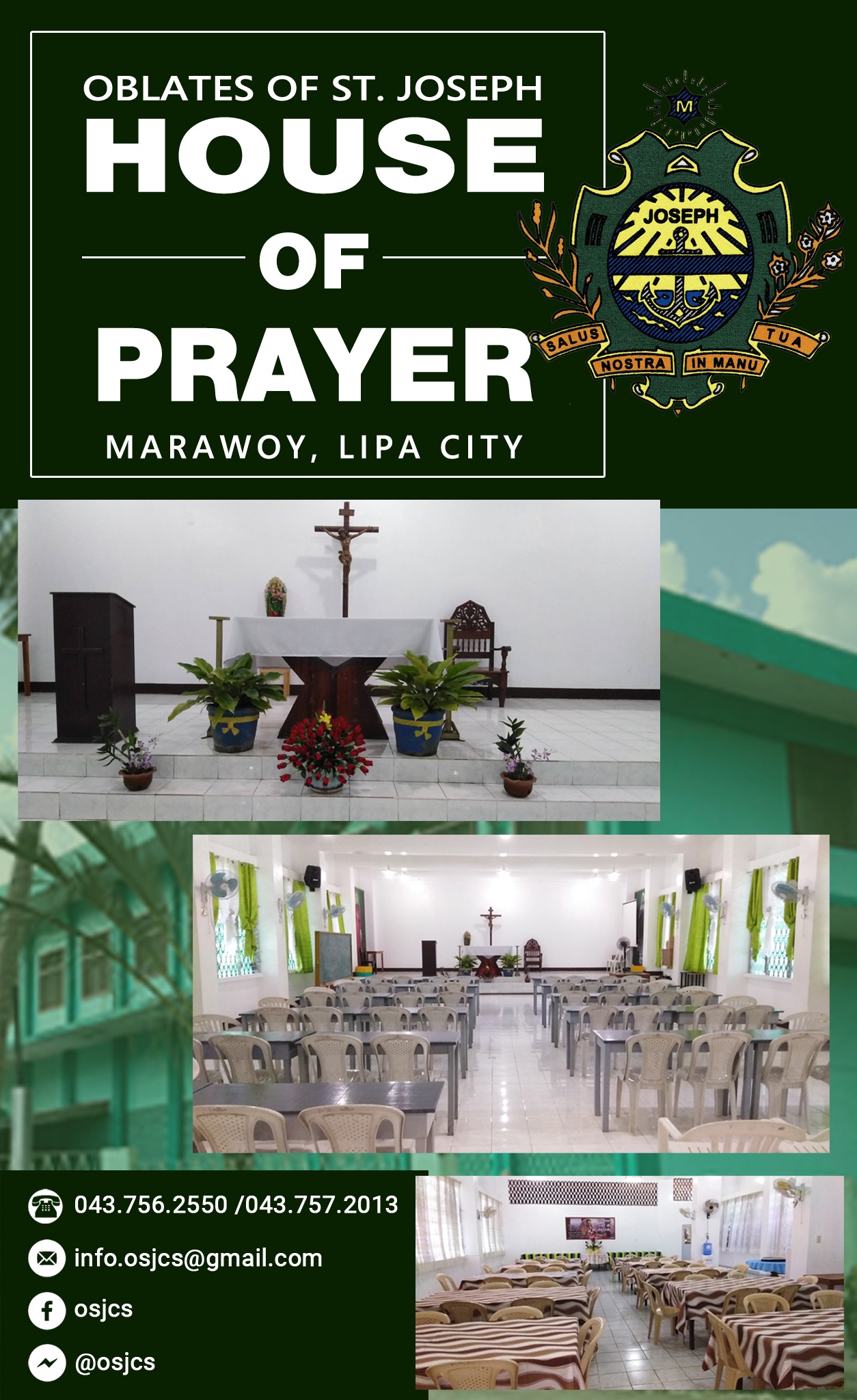 Click poster to enlarge..

Pres. J.P. Laurel Highway Brgy. Marawoy
4217 Lipa City, Batangas


The benefits which we receive from our union with God in holy recollection are many. Look at Jesus, Mary and Joseph, three of the greatest people who ever lived on this earth. What were they doing at Nazareth? Nothing great and extraordinary in appearance: they were just doing the ordinary and humble things proper to a poor family of workers. But since they were enlivened by a spirit of prayer and union with God, all of their actions assumed value and immense splendor in the eyes of heaven.


St. Joseph Marello
Spiritual Exercises, October 1881