Page 10 - tmt-december-2020
P. 10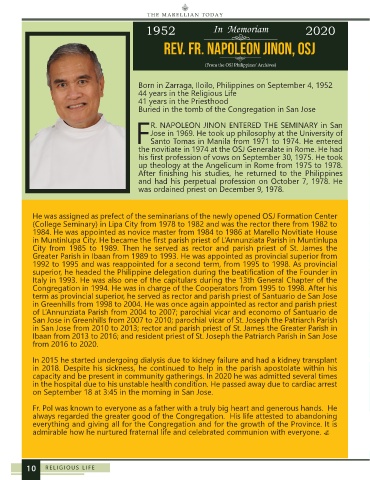 1952                  In  Memoriam                   2020

                                                       REV. FR. NAPOLEON JINON, OSJ



                                                                     (From the OSJ Philippines' Archives)


                                               Born in Zarraga, Iloilo, Philippines on September 4, 1952
                                               44 years in the Religious Life
                                               41 years in the Priesthood
                                               Buried in the tomb of the Congregation in San Jose

                                                   R. NAPOLEON JINON ENTERED THE SEMINARY in San
                                                   Jose in 1969. He took up philosophy at the University of
                                              FSanto Tomas in Manila from 1971 to 1974. He entered
                                               the novitiate in 1974 at the OSJ Generalate in Rome. He had
                                               his first profession of vows on September 30, 1975. He took
                                               up theology at the Angelicum in Rome from 1975 to 1978.
                                               After finishing his studies, he returned to the Philippines
                                               and had his perpetual profession on October 7, 1978. He
                                               was ordained priest on December 9, 1978.




            He was assigned as prefect of the seminarians of the newly opened OSJ Formation Center
            (College Seminary) in Lipa City from 1978 to 1982 and was the rector there from 1982 to
            1984. He was appointed as novice master from 1984 to 1986 at Marello Novitiate House
            in Muntinlupa City. He became the first parish priest of L'Annunziata Parish in Muntinlupa
            City from 1985 to 1989. Then he served as rector and parish priest of St. James the
            Greater Parish in Ibaan from 1989 to 1993. He was appointed as provincial superior from
            1992 to 1995 and was reappointed for a second term, from 1995 to 1998. As provincial
            superior, he headed the Philippine delegation during the beatification of the Founder in
            Italy in 1993. He was also one of the capitulars during the 13th General Chapter of the
            Congregation in 1994. He was in charge of the Cooperators from 1995 to 1998. After his
            term as provincial superior, he served as rector and parish priest of Santuario de San Jose
            in Greenhills from 1998 to 2004. He was once again appointed as rector and parish priest
            of L'Annunziata Parish from 2004 to 2007; parochial vicar and economo of Santuario de
            San Jose in Greenhills from 2007 to 2010; parochial vicar of St. Joseph the Patriarch Parish
            in San Jose from 2010 to 2013; rector and parish priest of St. James the Greater Parish in
            Ibaan from 2013 to 2016; and resident priest of St. Joseph the Patriarch Parish in San Jose
            from 2016 to 2020.


            In 2015 he started undergoing dialysis due to kidney failure and had a kidney transplant
            in 2018. Despite his sickness, he continued to help in the parish apostolate within his
            capacity and be present in community gatherings. In 2020 he was admitted several times
            in the hospital due to his unstable health condition. He passed away due to cardiac arrest
            on September 18 at 3:45 in the morning in San Jose.


            Fr. Pol was known to everyone as a father with a truly big heart and generous hands.  He
            always regarded the greater good of the Congregation.  His life attested to abandoning
            everything and giving all for the Congregation and for the growth of the Province. It is
            admirable how he nurtured fraternal life and celebrated communion with everyone.